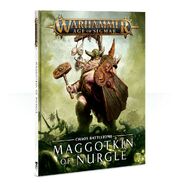 Nurgle is the Chaos God of plagues, whose power waxes strong when disease and despair ravage the Mortal Realms. Though he is a source of fear and revulsion to his enemies, Nurgle is a perversely paternal god, generous with his foul gifts and proud of his worshippers' every disgusting achievement. His armies, both mortal and daemon, bulge with virulent boons. The twisted and disfigured, the spiteful and forsaken, the hopelessly insane – these Maggotkin spread the joyous filth and bountiful contagions, hoping to turn the whole of the Mortal Realms into a single garden of beautiful putrescence.
In the 104-page hardback Battletome: Maggotkin of Nurgle, you'll find:
- Grandfather Nurgle: disturbingly cheerful background information on the most plaguesome of Chaos Gods, delving into his fraught relationship with the other gods, his hideous and bloated physical form and his obsession with the lush, inexhaustible cornucopia of Ghyran;
- The Garden of Nurgle: a horribly detailed description of Nurgle's domain within the Realm of Chaos;
- Details of the Daemons of Nurgle, from Plaguebearers to Great Unclean Ones, describing their foul methods of war, along with descriptions of Nurgle's vast armies of mortal followers;
- Armies of the Plague God: the organisation and structure of Nurgle's armies – the Plague Legions and the Rotbringer Contagiums;
- Warbands of the Plague God: descriptions, sigils and colour schemes for 6 specific Nurgle warbands – The Munificent Wanderers, The Befouling Host, The Droning Guard, The Blessed Sons, The Drowned Men and the Filthbringers;
- Annals of Entropy: a timeline of significant battles and events in the history of Nurgle's forces;
- Detailed background on the forces available to Nurgle, including mortals and daemons;
- A showcase of beautifully-painted Citadel miniatures, with an example Maggotkin army.
Source