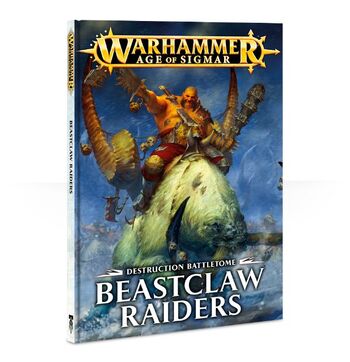 Destruction Battletome: Beastclaw Raiders is a full colour, 120-page hardback book, dedicated to the ogors of the Beastclaw Raiders.[1]
Contents
Forces of the Beastclaw Raiders - rules and abilities for your army, including powerful Allegiance Abilities – special Battle Traits and Command Traits.[1]
Trophies of the

Alfrostuns

- magical artefacts hewn from frost-covered mountains which your heroes can use to gain an advantage.[1]
3 all-new Battleplans, detailing huge battles that show you how the Beastclaw Raiders fight.[1]
A wealth of background information and backstory – how the Beastclaw Raiders' hunting parties are organised, how and why they fight, and who their leaders are.[1]
Tips for collecting the miniatures.[1]
Guides to painting the markings of the various Beastclaw Raiders tribes.[1]
Source