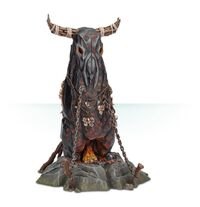 Wherever the Beasts of Chaos roam, they erect enormous megaliths called Herdstones.
Wrought from the warp-infused substance of the realm in which they stand, Herdstones mark a beastherd's territory and serve as the focal point for their anarchic bacchanals. A fusion of nature and Chaos, they spread a malign influence, crumbling the trappings of civilization to dust and inspiring the Beasts of Chaos to fight with increased, unfailing vigor.
Wrought from the Chaos-infused substance of the realms, Herdstones are the sites at which the Beasts of Chaos carry out their savage rituals. As the Greatfrays stampede further into civilized territories, they continue to erect Herdstones, from which the corruptive taint of the anarchic wilds bleeds freely into the land.[3]
Gallery
Source