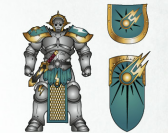 Radiant Sons of Sigmar: The Pure - In battle, the Radiant Suns of Sigmar gleam with the brilliance of Sigendil, the High Star. Theirs is the purity of justice, the might of the righteous. They believe justice is the greatest virtue.
Source
1 White Dwarf Magazine: March 2017
Community content is available under
CC-BY-SA
unless otherwise noted.