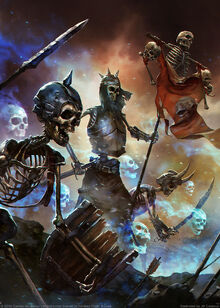 The skeletal populace of the Deathrattle kingdoms go to war at their king's command, arming themselves with pockmarked spears and blades, before mustering in perfect order beneath their deathless master's banners. Such a host is truly chilling to witness; endless ranks of fleshless, grinning warriors, advancing in chilling synchronicity and utter silence to slaughter the living without pity or remorse.[1]
Gallery
Sources
Community content is available under
CC-BY-SA
unless otherwise noted.